BRIGGS AND STRATTON STANDBY GENERATOR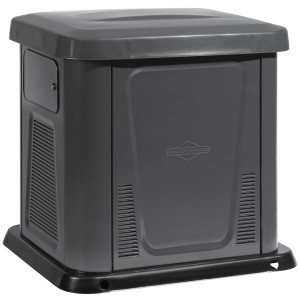 What happens when the power goes out and you're not home???
Hopefully, nothing.
If you have a basement, you will be replacing or repairing anything mechanical, repairing drywall, replacing carpet … maybe replacing a furnace or water heater…
If it's winter time, you will have frozen and busted pipes in no time. This can lead to thousands of dollars in repairs to the water lines and thousands more in repairs to walls, carpets, electrical systems, etc.
Here at Yager Electric, we are a certified dealer and installer of Briggs and Stratton Standby Generators. We can help you every step of the way towards purchasing a brand new Briggs and Stratton Whole House standby generator for your home today.
With our experience in this generator system, we can cut initial install costs by ensuring that we are providing a system tailored to your home and its needs. Briggs and Stratton Standby Generator Systems have a patented "load shedding" system that allows us to provide power for the things you want, while making sure the things you need are covered all the time at a fraction of the running cost. Couple that with the lower running cost and the upfront lower cost of these Briggs and Stratton products, and you have an unbeatable combination of Value and Quality.*
Having a Briggs and Stratton Standby Generator will give you piece of mind knowing that it will automatically be able to restore power to either a portion of or the entire house after sensing a loss of power. Give us a Call today. We can give you a Quote today**.
*Competitors pricing based on like items in like applications with advertised MSRP.
**Customized pricing is recommended based on your family and home needs. Over the phone proposals may be given, but in most cases, phone proposals are higher than a customized system.